Communication
Discussion forums, chat rooms, notifications, announcements, digests and more.
Every great learner journey is augmented with a communication strategy. Collaboration, knowledge transfer, team building, notifications and reminders.... so are so many reasons to communicate with your learners. What's ever better, is that you can choose to send these messages either by email or SMS.
Collaboration
People learn a lot from their peers. They transfer knowledge, sharing tips and insights, and become resources to each other. So why not capture that asset in your learner journey. Collabortion tools, such as discussion forums, chat rooms, blogs, and more, are very effective ways to moderate these communications and reward helpful behaviour.
Threaded discussions
Start a discussion thread and post replies as you would expect for all learners enrolled in an activity, domain or LMS-wide.
Blog
Present your discussions through the lens of a blog. Drive discussions through a topical post for all learners enrolled in an activity, domain or LMS-wide.
Gallery discussion
Present your discussions through the lens of a media gallery. Drive discussions through the context of a media file, i.e PowerPoints, videos, images and more, for all learners enrolled in an activity, domain or LMS-wide.
Chat room
Open chat rooms to facilitate live discussions with all enrolled in an activity, domain or LMS-wide. Let these be open all the time or scheduled for specific hours/days.
Notifications and digests
Every step of your learner journey maps to a possible notification. From the account creation to the completion of an activity. All notifications can be customized for both content and layout. Where notifications aren't enough, Thinking Cap also summarizes what may have been missed with a set of digest emails.
Notifications
This comprehensive selection of over 60 types of notifications may be sent by email or SMS. Everything from enrollment notifications, recurring overdue notifications to forum moderation notifications, allow for formatting, content and recipient customization and more.
Supervisor Digests
Summarize a supervisor or manager's key activity by activating a supervisor-specific email. This digest can report on summary of specific details that every supervisor needs to know, from how many new enrollments their direct reports are now required, to who is overdue.
Forum Moderator Digests
Ensuring forum discussions are moderated can be difficult. This digest sends a summary of any post not reviewed by a moderator - a perfect way to catch missed content.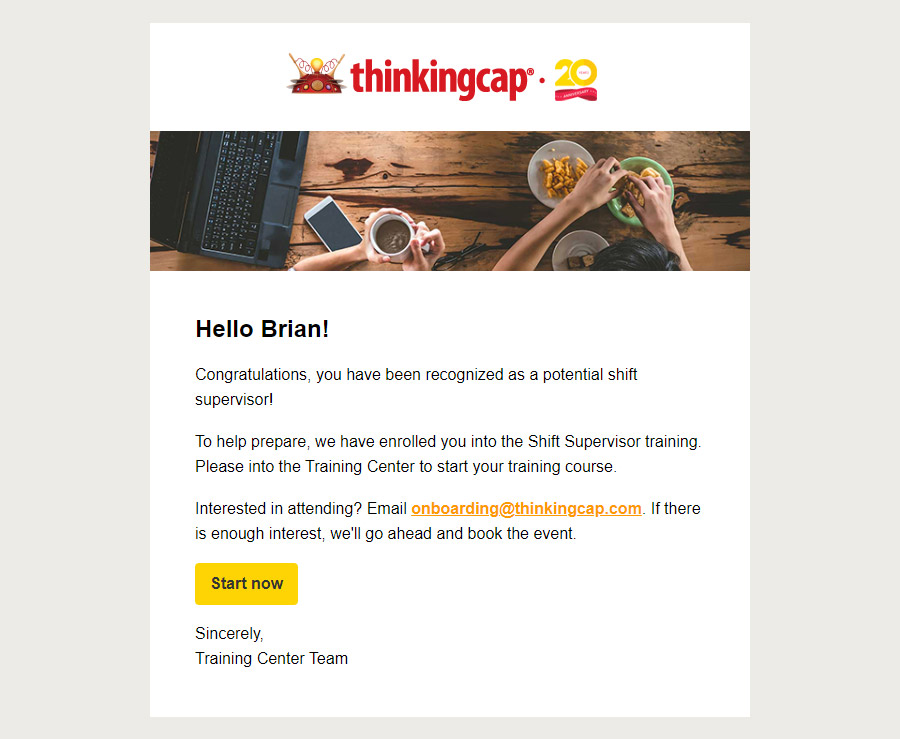 Announcements and alerts
From short announcements to your entire audience, to custom crafted announcements to a filtered audience, Thinking Cap can send your message. Announcement tools include, emailed announcements, recurring announcements of recently published activities, alerts for administrators and supervisors, and short news updates.
News feed
Share quick messages on the home page of your LMS to help direct learners to a specific activity, resources and more.
Alerts
Share important announcements to your learners in an alert that appears on every page your LMS.
Announcements
Email announcements to all learners in your LMS domain, enrolled in a specific activity or a filtered list of learners.
Recurring announcements
Automatically send updates to learners interested in finding out about new activitiies with recurring accouncement emails. Select your frequency, contnet and audience.
Want to find out more?
Book a session today for a personalized demo and Q&A.
Book a Demo